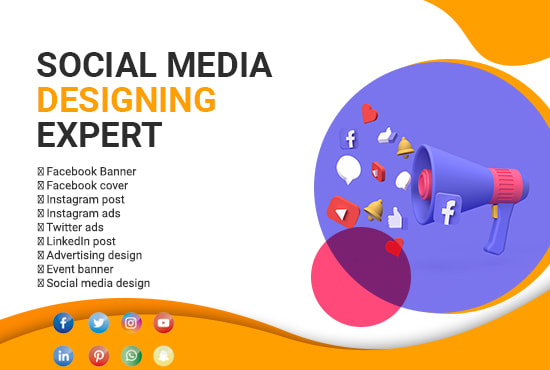 What is Social Media Design?
Making social media design stand out is every marketer's dilemma. It's getting harder and harder to grab users' attention due to fierce competition. But have you ever considered using an on-demand graphic design to help with your social media strategy?
Aside from online advertising being cost-efficient, it also has a more targeted reach compared to other types of advertising. But hold your horses, you can't expect to set up a Facebook Business Page and amass followers overnight. It takes time, effort, and a killer social media design to make people notice. And subscribing to an on-demand graphic design service is your best bet.
Why Choose Us?
Advertising is visible only to potential customers, the target audience is controlled
Contextual advertising will allow you to identify the needs of the target audience
If the user follows the pay per click link, then the owner of the resource pays for each such transition
The launch of the advertising campaign takes place within 1-3 days
Design Principles to Enhance Your Social Media Posts
Colors are a powerful tool for social media branding because they offer a way to convey mood and meaning without words. When choosing the right color for your brand, consider:
Is my brand masculine or feminine?
What kind of feelings are associated with my brand?
How do I want my customers/audience to feel?
The psychology of color and branding is a dedicated art, so ensure you choose brand colors that speak towards your personality and focus. Once you've created your brand color palette, which should consist of two to four colors, apply your colors consistently within your designs.
Your color palette applies to the colors you use in your social media graphics, as well as the imagery you choose.
Fonts bring your design's message to life. The fonts you choose should embody the personality and character of your brand.
Social media images are a great opportunity to branch out from your usual set of brand fonts. For example, a cursive or uppercase font wouldn't be the best fit for longer sections of text on a webpage. Social media design is your chance to get creative with your font collection. Whatever fonts you choose, make sure you apply them consistently.
If you haven't heard it by now, negative space (also referred to as white space) is a great way to make your image stand out. Contrast attracts the eye and can be applied with font, colors, alignment, size, and more.
How can you contrast an image? A simple way to implement contrast into your graphic design is through the use of colors.
For example, to use a white logo with a contrasting dark color making the content both readable and visually appealing. The right balance can bring any social media graphic design content to life!
Text is also an important part of the contrast. Choosing text sizes that contrast well, as mentioned above, will help to make your graphic pop. Creating a flowing design by surrounding words with white space will allow the elements to breathe. The use of space around text, shapes, and other elements will make your design easier to read and also attract more attention than a cluttered design.
A good rule of thumb is if you have a light-colored background then you should use a dark font (and vice versa).
Help your audience to comprehend information quickly and precisely using visual hierarchy. According to Gestalt theory, humans tend to perceive the entirety of objects before they detect the individual objects.
Through structured visual characteristics (size, color, contrast, repetition, proximity, texture, alignment, etc.) designers can make users' eyes follow certain reading paths and draw users' attention to the most important elements.
Copy space refers to empty areas in images. Placing your text in areas with clear copy space will improve the legibility of your design, and help you get your message across.
If you need to create more copy space within an image, enlarge and crop it. This will give your text more room to breathe.
You can create a series of posts using consistent layouts with an eye-catching design. These are a great way to engage your fans, as they look familiar every time your post them on your social media pages.
Make sure the layouts are designed with a common theme in mind. Nutella has demonstrated this approach on its Facebook page, creating a series of graphics with suggestions about how to eat Nutella. This is a clever, not to mention time-effective, way to create unique visual content that builds your brand image and boosts user engagement.
Whether your design is simple or complex, it should be clear, especially concerning social media graphics. Don't overdo the design and keep the balance between simplicity and informativeness. You don't have much time to impress followers, so ensure your message is obvious.
Visual graphics are an integral part of any social media marketing plan and the designer's contribution to the success of a marketing strategy is undeniable. As a designer, you should take into account marketing goals and your company's tone when creating any visuals for social media. And don't forget the main rule coupled with social media — never stop experimenting.
Maintaining your social media presence will have you posting on platforms such as Facebook, Twitter, Instagram, and Google, which all have different preferred image dimensions.
Covering all bases on social media can be time-consuming — the easiest way to optimize your graphics efficiently is to create templates for post types that you create regularly. For example, you could try these ideas:
A weekly quote post
An industry tip
A cover image for a company blog
People respond well to images on social media because they're easier to digest than text updates. Take advantage of your visual elements and only use text when necessary. Using icons is a creative way to minimize the text in your graphics.
If your images are strong enough, you might not even need any text or graphic overlays.
Repeat after me, each platform is different.
Knowing ahead of time what works best with each platform will not only help visually with your audience but will make things easier for you in the long run. Below are 5 social platforms and included some tips for each.
Facebook, Instagram, Twitter, Pinterest & LinkedIn
Advantages of Social Media Design
Increased Brand Awareness
More Inbound Traffic
Improved Search Engine Rankings
Higher Conversion Rates
Better Customer Satisfaction
Improved Brand Loyalty
More Brand Authority
Cost-Effective
Gain Marketplace Insights
Thought Leadership